Shun knives are carefully crafted to perfection, offering top-notch quality and value compared to their counterparts. Shun knives come in various sizes and shapes, with different designs and materials to cater to all preferences.
Shun knives have always been widely regarded as some of the finest kitchen knives available. Renowned for their japanese craftsmanship, precision engineering, and exquisite design, shun kitchen knives have amassed a loyal following worldwide. Their knives are constructed using only the finest materials, including high-performance vg-max steel and beautifully grained pakkawood handles.
Each knife in the shun lineup is developed for specific tasks, from slicing and dicing to filleting fish and butchering meat. Shun knives are engineered to stay sharp longer, cut more efficiently, and provide excellent weight and balance for optimum control. In this article, we will compare and contrast some of the popular shun knives and help you make the best decision to suit your needs.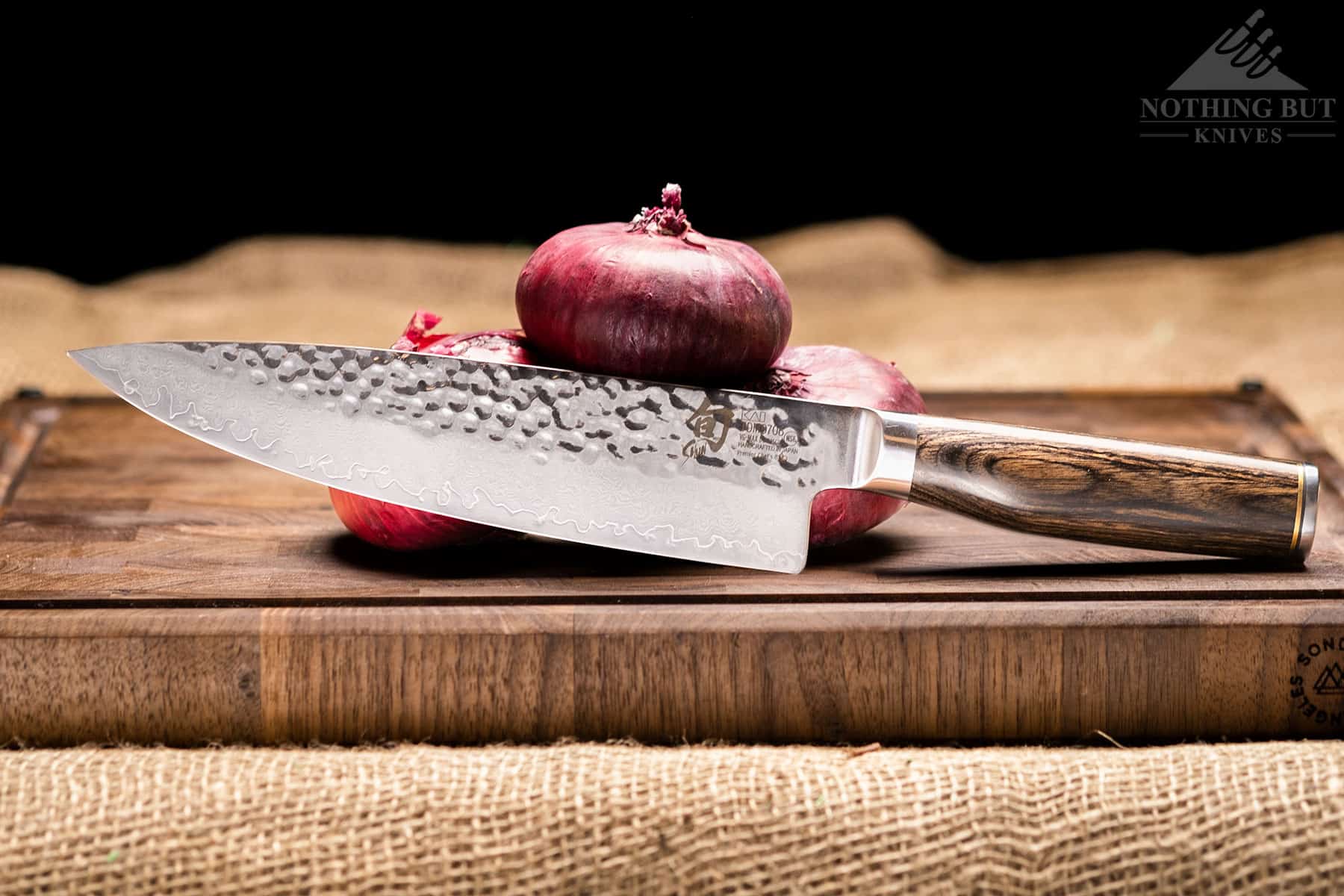 Credit: www.nothingbutknives.com
Understanding Shun Knives
Shun Knife Comparison: Which Blade Cuts It Best?
Are you in the market for a high-quality kitchen knife but don't know where to start? Shun knives are a great option for those who want functional and visually appealing knife. We will explore the details of shun knives, including their history, the materials used to manufacture them, and how they compare to other brands on the market.
Details On The History Of Shun Knives
Shun knives are renowned for their quality and precision, but where did these exceptional knives originate?
The story of shun knives can be traced back to seki city, japan, where skilled blacksmiths have been crafting knives for over 800 years.
Inspired by the quality of these knives, kai corporation decided to create their own line of premium knives, which led to the birth of the shun brand in 2002.
Since then, shun has become a leader in the knife industry, known for their exceptional craftsmanship and unique style.
Explanation About The Materials Used To Manufacture Shun Knives
The quality of a knife is largely determined by the materials used to manufacture it. Shun uses only the finest materials, resulting in a durable and effective knife.
The blade of a shun knife is made from vg-max steel, a high-quality steel extremely resistant to corrosion and wear.
The handle of a shun knife is made from either pakkawood or tagayasan wood, both of which are durable and easy to grip.
Shun knives are also known for their striking damascus patterning, which is achieved by layering together multiple sheets of metal.
Comparison With Other Brands Of Knives Available In The Market
With so many knife brands on the market, it can be difficult to know which one to choose. Here's how shun stacks up against some of the other top brands:
Shun vs wusthof: While both brands offer high-quality knives, shun knives tend to be more visually striking and offer a wider range of unique designs.
Shun vs zwilling: Zwilling knives are known for their exceptional durability, but they are often considered more comfortable to use and offer greater precision.
Shun vs global: Global knives are praised for their ultra-sharp blades, but shun knives tend to be more versatile and are available in a greater range of styles.
Shun knives are a great choice for those who want a functional and visually appealing knife. With a rich history, high-quality materials, and exceptional craftsmanship, shun knives will impress even the most discerning chefs.
Types Of Shun Knives
Shun Knife Comparison: Which Blade Cuts It Best?
Shun knives are a remarkable addition to any kitchen. Known for their exceptional sharpness, striking beauty and durability, these knives can be considered investments that will last a lifetime. But with various types available, knowing which one provides the ideal cut for different purposes is essential.
We'll explore different shun knives and their suitability for various applications.
Explanation About The Different Types Of Shun Knives And Their Uses
Shun knives come with various blade materials, construction techniques, designs and prices. Here are some of the most common types of shun knives and their uses:
Chef's knife: Ideal for chopping, dicing, and slicing, this all-purpose knife efficiently accomplishes most kitchen tasks.
Paring knife: Suitable for peeling, coring, and trimming small fruits and vegetables.
Slicing knife: Perfect for cutting thin, uniform slices of meat, fish, and poultry.
Nakiri knife: Specifically crafted for slicing vegetables, this knife has a straight blade which creates a single-motion cut, allowing for easy vertical and horizontal chopping.
Utility knife: Versatile knife used for a range of smaller tasks such as trimming and cutting meat into smaller pieces.
Detailed Analysis Of The Classic, Premier, Dual Core, Kanso And Sora Shun Knives
Shun knives come in various designs, each with its unique features. Here's a detailed analysis of some of the most popular shun knives:
Classic shun knives: With a vg-max steel blade, the classic line is the most popular and regularly used in kitchens worldwide. This series is well-balanced with comfortable handles and ultimate precision, making it suitable for most kitchen tasks.
Premier shun knives: With a walnut handle and hand-hammered design, these knives feature a thin blade for precise slicing and chopping. They're suitable for meat, fish, and vegetables and are perfect for home cooks that require extreme precision.
Dual core shun knives: These knives have an innovative design combining two steel types for maximum sharpness and durability. Featuring a vg10 and vg2 stainless steel blade, these knives are well balanced and lightweight, making them ideal for longer usage.
Kanso shun knives: The kanso series features a rustic design with a full tang, Korean pakkawood handle. This line of knives is the perfect choice for cooks who require comfort and balance over frills and aesthetics.
Sora shun knives: With a simplistic design featuring an encapsulated blade and textured tpe polymer handle, these knives are an excellent choice for beginners in the culinary world. The sora series offers value for money with a top-of-the-line vg-10 steel blade.
Comparison Of These Knives Based On Sharpness, Durability, Ease Of Use, And Precision
Choosing the right shun knife depends on your individual requirements. Here's how some of the most popular shun knives compare based on their sharpness, durability, ease of use, and precision:
Classic shun knives: These knives are sharp, durable and come with comfortable handles, making them easy to use on most kitchen tasks. They require regular maintenance to maintain their sharpness and are known to be precise.
Premier shun knives: Thin and elegant, these knives are incredibly sharp and offer extreme precision. They're ideal for meat, fish, and vegetables and require minimal maintenance.
Dual core shun knives: These knives combine two materials, leading to maximum sharpness, durability and make them lightweight. They're known to remain sharp for a long time and provide precision.
Kanso shun knives: With a robust design and full tang, these knives are easy to hold, feel durable, and provide balance. They're known to require more maintenance and don't offer the same sharpness as some of the other shun knives.
Sora shun knives: With an encapsulated blade and textured TPE polymer handle, these knives offer ease of use and comfort. They're known for their durability and affordability but don't offer the same level of sharpness as some of the other shun knives.
Shun knives are a worthy addition to any kitchen with their exceptional sharpness, durability and striking designs. From the classic to the Sora series, each of these knives offers unique features that appeal to chefs of different levels of skills and experience.
By selecting the right shun knife, you'll quickly discover the difference and feel confident in achieving the maximum potential with each cut.
Factors To Consider When Choosing Shun Knives
Shun Knife Comparison: Which Blade Cuts It Best?
Are you in the market for a new knife? Shun knives are renowned for their high-quality blades and comfortable handles. When it comes to purchasing a shun knife, there are a few important factors to consider.
Overview Of The Most Important Factors To Consider When Buying A Shun Knife
Purpose: First and foremost, what will you be using the knife for? Shun knives are designed for specific tasks, so it's crucial to identify your needs before purchasing.
Comfort: The knife handle should be comfortable to hold and grip, with a secure grip to prevent slips.
Blade material: The blade material should be durable and resistant to rust.
Blade shape: The shape of the blade depends on the task, for example, a pointed blade for intricate cuts and a curved blade for chopping.
Balance: The weight of the blade should be balanced with the handle to prevent wrist fatigue.
Discussion Of The Different Blade Materials And Their Pros And Cons
Shun knives are made from various high-quality materials like stainless steel and Damascus steel.
Stainless steel: This material is affordable, durable, and low maintenance. It resists rust and stains, but the blade may not be as sharp as Damascus steel.
Damascus steel: It combines different metals forged together to produce a beautiful patterned blade. It's harder than stainless steel, holds a sharp edge, and resists corrosion. However, it requires more maintenance due to the possibility of rust and stains.
Explanation Of Handle Construction And Its Importance In Selecting The Right Knife
Knife handles are made of different materials like wood or synthetic resin. The construction and design of the handle are vital in ensuring that you have a good grip and control of the knife.
Grip: The handle should be comfortable, ergonomic, and slip-resistant to avoid accidents.
Material: Synthetic resin is a popular choice for shun knives, as it's durable, water-resistant, and can withstand a lot of wear and tear.
Aesthetics: The design and color of the handle are essential factor to consider for many users.
Choosing the right shun knife depends on your needs and preferences. Considering the blade material, handle construction, and other factors described above, you can find the perfect shun knife that matches your cooking style and lasts a lifetime.
Which Shun Knife Is Best For You?
Shun Knife Comparison: Which Blade Cuts It Best?
The myriad options available on the market can be overwhelming when it comes to finding the perfect kitchen knife. Finding the right balance between quality and affordability is crucial, as is selecting a product that meets your needs. If you're interested in purchasing a shun knife but aren't sure which one is right, this guide will provide helpful tips and advice.
A Step-By-Step Explanation Of How To Decide Which Shun Knife Is Best For You Based On Your Needs And Budget
Consider how much you are willing to spend on a knife, as shun knives come at varying price points depending on their quality and features.
Determine your primary use:
Decide whether you will be using the knife for everyday tasks, more professional meal preparation, or special occasions.
Consider the blade style:
Shun offers a variety of blade styles, each designed for a specific purpose. Consider your intended use and select the blade style that is best for you.
Consider the handle style:
Shun knives come in a wide range of handle styles, each of which offers unique benefits. Consider your preferences and select the handle style that suits you best.
Discussion Of Specific Scenarios For Different Types Of Consumers Like Cooks, Chefs, Homemakers, Etc.
For home cooks:
If you're an avid home cook, you may want to consider the shun classic chef's knife. This knife offers a versatile blade style and a comfortable handle, making it perfect for everyday meal preparation.
For professional chefs:
Professional chefs may prefer a high-quality knife like the Shun premier chef's knife. Its ultra-sharp edge and a comfortable handle make it ideal for extended use in a bustling kitchen.
For homemakers:
If you're a homemaker looking for a quality knife that will last for years, the shun sora santoku knife could be a great choice. This type of knife is designed to handle a variety of household cutting tasks, and is made with high-quality materials that will stand the test of time.
By following these tips, you can select the perfect shun knife to meet your needs and budget. Remember to consider the primary use, blade style, and handle style when selecting. With a little research, you'll be on your way to taking your kitchen game to the next level.
Frequently Asked Questions For Shun Knife Comparison
How Do I Choose The Right Shun Knife?
Consider your needs and cooking style, blade material, and handle comfort for the perfect fit.
Are Shun Knives Worth The Price?
Shun knives are worth the investment for their high-quality materials, craftsmanship, and precision.
How Do I Care For My Shun Knife?
Hand wash with mild soap and water, dry immediately, and store in a knife block or protective sheath.
What Is The Difference Between Shun Classic And Premier?
Classic has a heavier blade and d-shaped handle, while Premier has a lighter blade and contoured handle.
Can Shun Knives Be Sharpened?
Shun knives can be sharpened with a whetstone or honing steel to maintain their sharpness.
Conclusion
It is clear from the above discussion that selecting the right chef's knife is critical to the efficiency and effectiveness of cooking. Shun knives, known to be the best in the market, offer a wide range of cutlery, each designed to suit different needs, preferences, and budgets.
Their unique features, such as the Damascus-clad blades, pakkawood handles, and razor-sharp edges, distinguish them from other brand knives. The comparison provided above highlights the key differences between the various models, and the pros and cons of each. Different models have been designed for different purposes, making them suitable for home cooks, professional chefs, and everyone in between.
To sum up, shun knives offer quality, versatility, and durability, and having any of them in your kitchen arsenal is a worthwhile investment.